Mental Fitness at Sage + Sound NYC (Honest Review)
When you live in New York City, train delays, crowds, and somehow always leaving the house late force a stressful 'rush'-mode by default. And this day was no different. I raced to make it to the wellness studio (of all places) for a "group mental fitness class," as the brand describes it, at Sage + Sound NYC.
Two train rides and a heart-pumping power walk later, I arrived. The signature forest green exterior welcomed me in.
As a former NASM-certified personal trainer and mindfulness & mindset enthusiast, this experience enticed me. I knew I needed this class, but I had no expectations.
Here's my honest review of the experience, plus 5 things I learned from the class.
As soon I walked into The Study, my energy shifted. A sense of calm washed over me, and my heart rate decreased.
This sound-proof mind sanctuary absorbed my 'stressy' energy as I was greeted with smiles from my class peers (about six other people), and I nestled into the side bench, which overflowed with plush toss pillows.
"You'll need something to write with," said my instructor, author, and coach for the hour-long mental fitness class, Parizad Srivastava (Pari, for short, with her permission).
She graciously invited me to retrieve it from the back. A stack of notebooks and pencils were available to take. They became pretty handy (and monumental, as I'll get into later) to take notes during the Manifest Abundance mindset class.
I took many notes.
5 Things I Learned From a Group Mental Fitness Class at Sage + Sound NYC
Mindset Learning #1: Positive Thinking Takes Training
Sage + Sound NYC describes their offering as "mental fitness." But you might overlook the keyword: fitness.
Much like achieving a new personal record in a race or pushing through a heavy lift at the gym, that achievement is progressive, thanks to consistent training. But that's training for your body. Sage + Sound proves that training for your mind is essential, too.
Sage + Sound offers most classes on a weekly rotation, and my first Manifest Abundance class (offered on Wednesday afternoons) felt like the first of many training sessions—we only scratched the surface.
One of the activities was a visualization exercise. We all stood and closed our eyes as Pari encouraged us to envision standing on the terrace of a tall building. She invited us, with our mind's eye and physical steps, to walk to the edge. And then, with just the guidance of Pari's voice, we'd learned that there was no railing or barrier at the edge at which we had all arrived (in our imaginations).
Some people shared feeling afraid and scrunching their shoulders, tightening their fists, or stepping back.
While we were all physically safe in The Study, our imagined scenario on a terrace's edge made us shudder. So as a group, we explored how this imagined event (in our heads) triggered real, physiological feelings (in our bodies).
Pari then revealed the lesson: how many times in life do we let imagined scenarios impact our lives, emotions, and decisions? Mind blown.
This mental exercise demonstrated the power of our thoughts and imagination, and the activity evolved into more visualizations.
Through mental training exercises like this 'imagination exercise on the terrace,' as I jotted in my notes, I learned how reframing thoughts and positive thinking takes practice; it's not the flip of a switch.
Mindset Learning #2: Silence is Golden
Walking into The Study at Sage + Sound felt like entering a vacuum of peace.
The Study is sound-proof and for a good reason: "Living in New York City, we are constantly surrounded by noise, which can create stress and anxiety," says Sage + Sound. 
"But, when thoughtfully cultivated, sound and vibration [can] relax and restore us at our deepest level."
Being in The Study, I can attest: the sound of silence was blissful. It made group work, visualizations, and conversations more pure and impactful.
No matter how hard we may try to create a peaceful and quiet home, we have little control over sirens, noisy neighbors, and external sounds. This makes having access to a sound-proof space like The Study even more valuable. Silence is golden.
Mindset Learning #3: Group Training is Powerful
Exploring this mental training at Sage + Sound NYC in a group setting made all the difference. We were all strangers, but it takes especially like-minded people committed to self-improvement and self-exploration to gather in a sound-proof room in the middle of the day.
For that reason alone, I felt connected to these other humans, hearing their stories with deep empathy and sharing perspectives when appropriate.
I explored my singular experience and heard from others experiencing the same in real-time, which helped me realize that some feelings are natural, and I wasn't alone.
Mindset Learning #4: Mindfulness is Multi-Faceted
The hour class felt so much longer as we discussed manifestation, affirmations, vision boards, and more. Some topics came up that we had to defer to a future class, and we even went over time.
There's a lot to unpack with mindfulness: the science, the principles, and the techniques. I refer to my notes from that one class alone to prompt meditation and self-work when I practice on my own. I left that one mental fitness class with months of homework, proving just how multi-faceted mindfulness is.
Mindset Learning #5: A Mindset Coach is Invaluable
It's one thing to read about mindfulness in a self-help book and a very different, more profound experience to practice mindfulness under the guidance of a coach.
During the group mental fitness class, Pari was skilled in associating simple exercises and techniques with bigger-picture lessons and skill sets.
So as we unpacked our experiences from the terrace, among other exercises, the guidance of a coach made the activities less daunting and, therefore, more embraceable. I could push myself (and my mind) more with a coach at hand.
Mind Over Mani-Pedi's
Sage + Sound NYC offers a wide array of services for mind and body. And to be honest, it was hard to choose what service to experience first. In fact, my very first visit to Sage + Sound was an eyebrow threading.
But after experiencing a mindset class, the massages and manicures (which they also offer) can wait.
I'll certainly be back to exercise my mental fitness.
Making Time for Your Mind: Work Meets Wellness
Operating and starting a business is hard enough. Ever tried it in a bustling city, too? 🫠
Or, if you're enjoying a hybrid or fully remote work model, getting out of your apartment or office might be necessary, too.
Spaces like Sage + Sound can offer a literal and mental escape from the demands of work and city life.
While a 1-star review on Mindbody describes Sage + Sound as "No spa-like experience, no water, tea, etc." your experience there will boil down to your needs.
I needed a break from my business and a reset of my mindset. Sage + Sound delivered.
Be sure to explore their class schedule and offerings before going because it's not a 'full spa day' type of facility. In fact, one report highlights the benefit of Sage + Sound as a "hybrid work and wellness space."
"On any given day, you'll find patrons with their laptops out between appointments, enjoying the calming ambiance as they avoid packed coffee shops or their offices," says the report.
While I didn't expect or need the luxury spa robe & tea (though there's certainly a time and place for it!), I'd pay good money to go back and just sit in The Study.
The sound-proof coven is all I need, but the camaraderie and coaching through the mental fitness class helped my experience still feel fulfilling.
I want to explore their sound therapy offerings next. Which class will you take if you go?
Pin for later: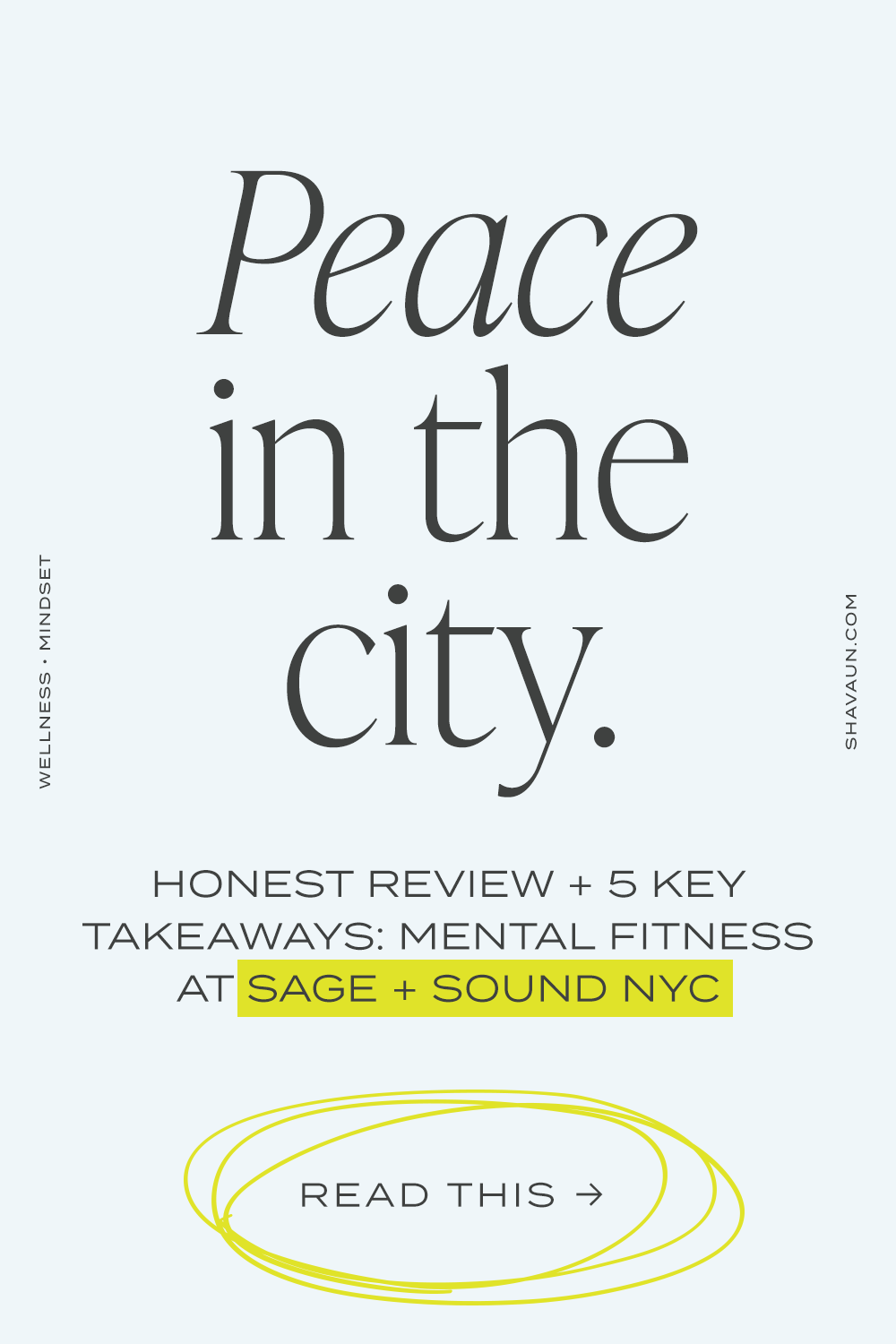 You Might Also Like
About the Author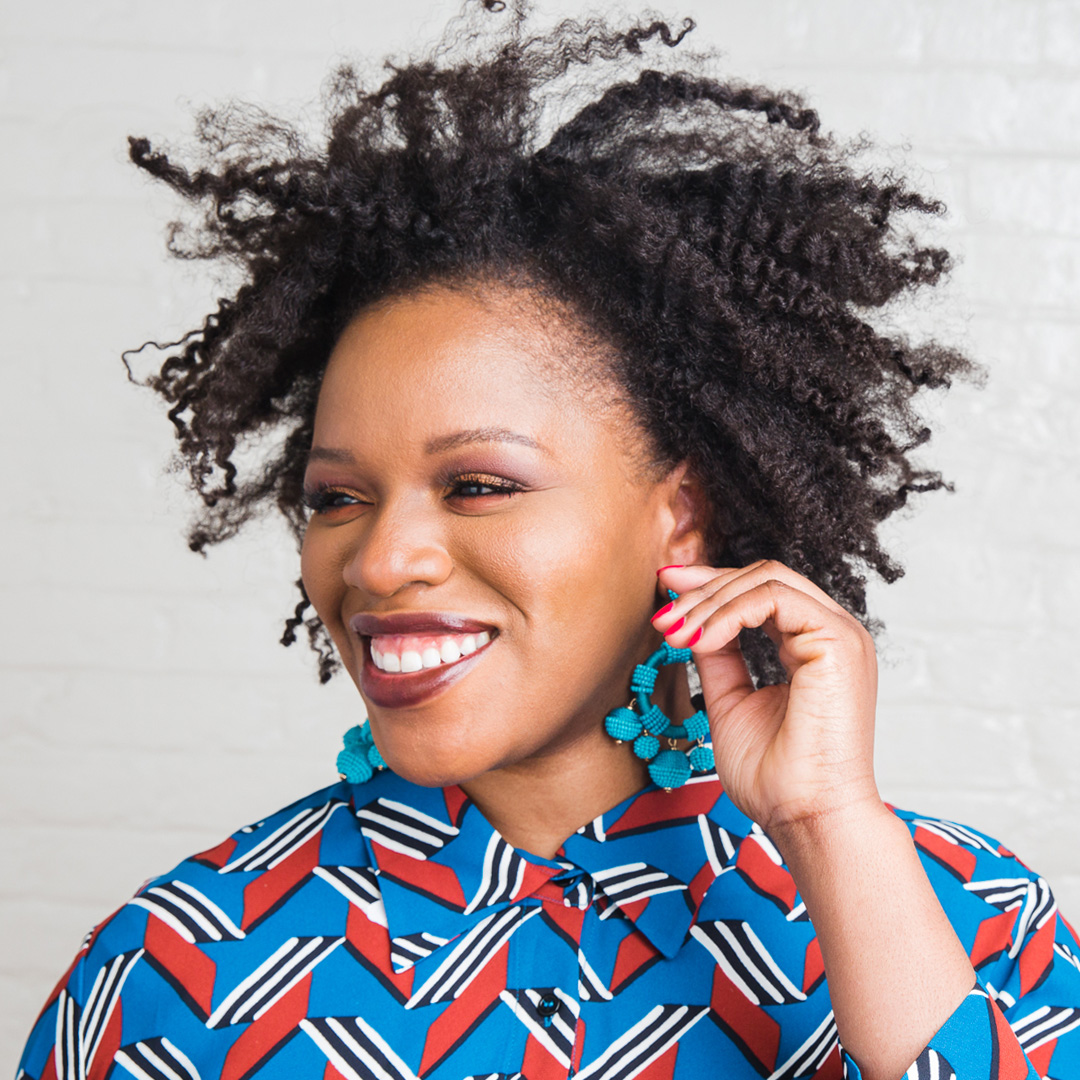 Shavaun is a branding, design & digital marketing expert and the Founder of Spoken Flames. As a two-time founder and award-winning creative ad professional, she lends her global-client experience to help enterprises and entrepreneurs transform ideas into tangible brands, products, or services—and maximize their presence on the Web.